Kinokulture Cinema
9 Arthur Street
Peter Rabbit 2: The Runaway
Synopsis
In PETER RABBIT 2: THE RUNAWAY, the lovable rogue is back. Bea, Thomas, and the rabbits have created a makeshift family, but despite his best efforts, Peter can't seem to shake his mischievous reputation. Adventuring out of the garden, Peter finds himself in a world where his mischief is appreciated, but when his family risks everything to come looking for him, Peter must figure out what kind of bunny he wants to be.
More Information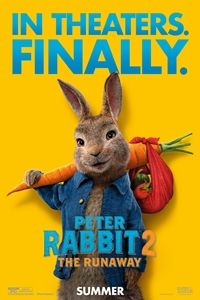 Rating:
U
Universal - Suitable for all
A U film should be suitable for audiences aged four years and over, although it is impossible to predict what might upset any particular child. U films should be set within a positive framework and should offer reassuring counterbalances to any violence, threat or horror. If a work is particularly suitable for pre-school children, this will be indicated in the BBFCinsight.
Advisory:
mild comic violence, very mild threat, rude humour
Country:
United States, Australia
Genres:
Action/Adventure
Animation
Comedy
Family
SciFi/Fantasy
Film Credits
Producer:
Will Gluck
Zareh Nalbandian
Writer:
Will Gluck
Patrick Burleigh
Starring:
David Oyelowo
James Corden
Rose Byrne
Elizabeth Debicki
Domhnall Gleeson
Margot Robbie