Kinokulture Cinema
9 Arthur Street
Cinema Paradiso (Nuovo Cinema Paradiso) (1988)
30th Anniversary re-release
Synopsis
Set in a small Sicilian village, the story depicts three stages in the life of an avid film lover.
More Information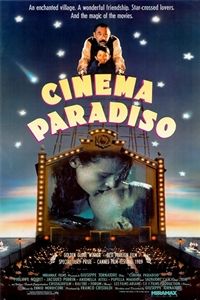 Rating:
12A
Suitable for 12 years and over
Films classified 12A and video works classified 12 contain material that is not generally suitable for children aged under 12. No one younger than 12 may see a 12A film in a cinema unless accompanied by an adult. Adults planning to take a child under 12 to view a 12A film should consider whether the film is suitable for that child. To help them decide, we recommend that they check the Ratings info for that film in advance. No one younger than 12 may rent or buy a 12 rated video work.
Advisory:
Contains moderate sex
Film Credits
Producer:
Giovanna Romagnoli
Franco Cristaldi
Writer:
Giuseppe Tornatore
Vanna Paoli
Starring:
Philippe Noiret
Jacques Perrin
Salvatore Cascio
Mario Leonardi
Brigitte Fossey
Marco Leonardi
Agnese Nano